Some haircuts 2017 came from past, but enriched with modern boldness. Hedgehog haircut could be definitely called one of such hair trends 2017. It became little longer and looking more extremely. And, of course, cuter on boys!

Let's discuss one of most stylish boys haircuts in our « Hair trends 2017: Hedgehog haircut» article.

Boys haircuts: For whom is Hedgehog haircut?

First condition for choosing this style should be your kid's preference. Do not force him, just give freedom of choice.
Haircuts 2017 should fit their owner lifestyle. Hedgehog haircut belongs sport haircuts group. It would be perfect for all active children.
Some hair characteristics should be required for such kids' haircuts. Let us list it.
Straight hair.
Not too soft hair.
Right face and haircut shape combination.
Square and rectangular faces look best with this haircut. Though, boys haircuts choice would be individual. If stylist doesn't recommend your child classical Hedgehog haircut, add longer hair strands, where it's necessary.

Kids haircuts: Hedgehog haircut styling options
Classical Hedgehog haircut styling should be made just with washing and drying.
Did your child ask about mohawk? If you don't feel ready for such bold kids haircuts, propose him Hedgehog haircut faux mohawk styling instead. It looks modern and very cute. Slick hair on temples and lift them in middle with styling gel. You (or your child) can style such faux mohawk anyway you want!

Haircuts 2017 should be easily transforming. It's an especially important option for boys' haircuts. Slick hair fully, if it is needed, for official events.

Boys haircuts look so cute with fully lifted hair! You need to try to feel that greatness.

Haircuts 2017 should look extra modern with bangs. Lift them up or brush down for different looks.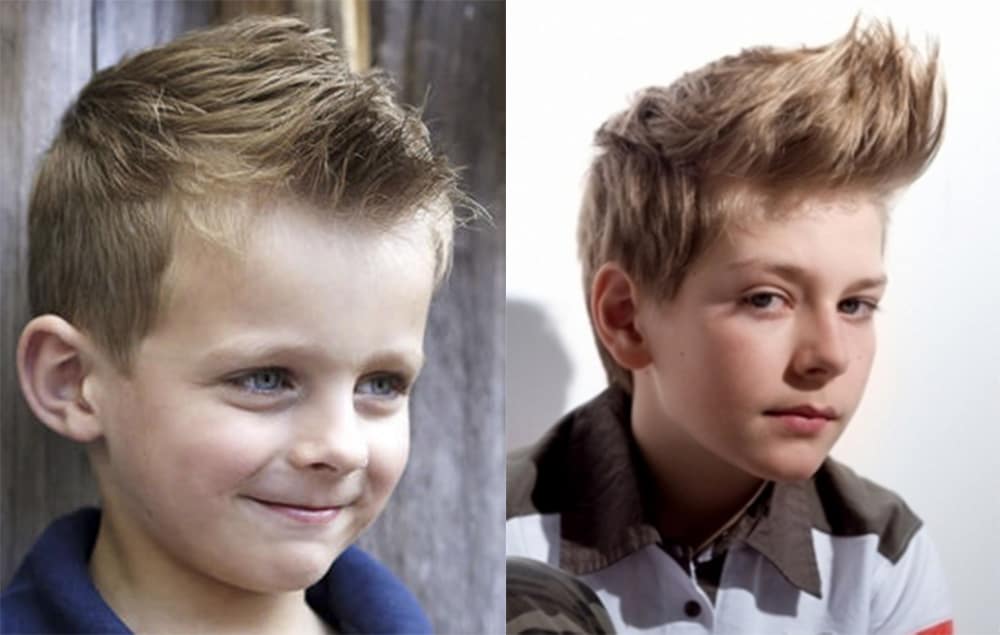 We hope, our «Hair trends 2017: Hedgehog haircut» article should make your kid stylish and happy!