Latest 2017 hair trends base on love to nature, special themes development and expression through hair. Maybe, you've already chosen Rustic wedding style, loved by youth for it's memorability, especial atmosphere, freshness.

Even if you wouldn't keep whole wedding celebration one-style, but need tender and unusual image for special day, our article was definitely made for you!
Wedding hairstyles: Magic Rustic wedding bride image
If classical bride image seems boring and too pathetic to you, pay attention on Rustic wedding hairstyle! Rustic style reflects European country simplicity aesthetics, with it boundless blooming meadows, fields and soft sunlight poetry…
Rustic wedding style gives you romantic fairy-tale heroine look!
Wonderful simple Rustic dresses and fresh natural make up give any wedding hairstyles using opportunities!
You don't need even usual veil! It covers your natural hair beauty too much.
Replace it with such Rustic wedding hairstyles necessary attribute, as flower crown. 2017 hair trends tend to natural accessories, so live field flowers would be a perfect option.
Add them to your flower crown, if they wouldn't wither for long time. If you love other strains, use their good imitation.

The more volume has your hair, the more lush should be your crown.
You can make it one style with bouquet or accent make up colors.
Combining natural flowers smell with your perfume is required!
Rustic wedding hairstyles creating: 2017 hair trends
Imagine fairy tale positive heroine hairstyle… You almost already know what to do!
You don't need too complicated wedding hairstyles to achieve it, just add mesmerizing flower crown! Let's discuss the best variants.
Just simple loose hair with such accessories, as flower crown or minimalistic lace headbands, should make you Rustic wedding princess!

Wavy hair adds more romanticism and tenderness.

Give green light to braids in your wedding hairstyle! Decorate them with small tender flowers, laces and leaves, use complicated braids. Cascade braid should be ideal option for long and middle length hair.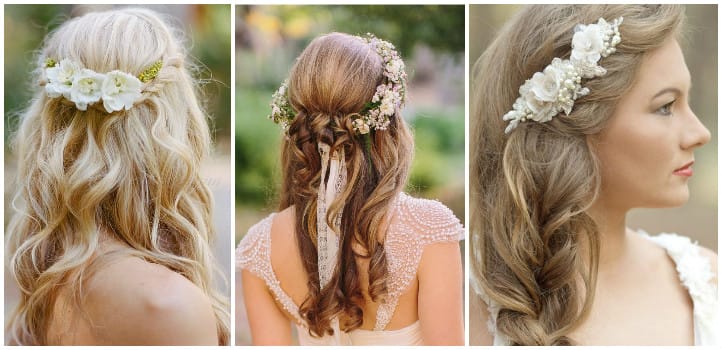 Such adorable wedding hairstyles make bride with short hair look like young antique goddess! You can add tender lace framing forehead also.

Hair color trends 2017: Airy beauty of wedding hairstyles
If you need realizing prettiest hair color trends 2017, Rustic wedding hairstyle should be best option!
Naturalness and softness should be hair color trends 2017 to use with Rustical wedding hairstyles. As ideal option you may remember your childhood hair shades.
Enrich one-tone hair with 2-3 tones bleached strands. They should magically decorate your braids!

Balayage and ombre with natural shades look great also.
Professional stylist could help you get one of greatest hair color trends 2017, as 3D dye. It should accent your hair shine and volume.
Traditionally Rustic wedding wouldn't be characterized by bright hair colors. But, if you love bold fantasy hair colors, anyway, think about such wedding hairstyles. Tender pastel lavender, mint, trendy metallic or even bright reds, blues should transform bride with Rustic hairstyle into unforgettable elven queen!

Hopefully, our advices should help you look unbelievable in happiest day of your life!