Changing hairstyle every day seems too complicated. We deny it! Hair trends 2017 transformed usual bobby pins and barrettes into real artistic materials. Just use them new way and you'll get original everyday hairstyles in few minutes!
Continue your travel into hairstyles 2017 world with our «Everyday hairstyles: Womens hairstyles 2017» article!
Hair trends 2017: Bobby pins' compositions
Bobby pins seem too simple? All the great things are simple!
Black, colored, simple or decorative bobby pins present in each lady's arsenal. Get them out sooner! You can create whole ensemble, picking them up in clothes, lipstick, accessories tone. Several bright bobby pins, placed back to back, look no worse than expensive accessories.

Hairstyles 2017 give freedom to your imagination. Place bobby pins in drawings' forms: squares, stars, triangles. Such shapes can beautifully hide bangs or keep hair on one side.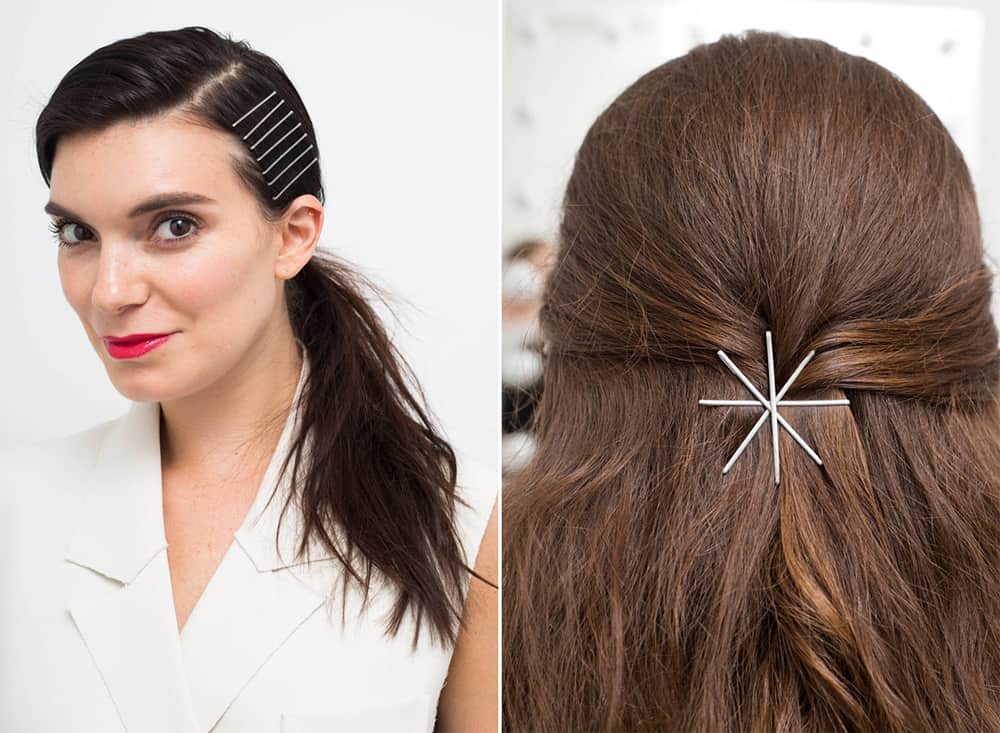 Accent half-up hair with geometric bobby pin construction.

Womens hairstyles 2017: Claw hair clip
Claw hair clip can be large or very tiny, without excessive decor or decorated with stones, beads and rhinestones.
Pinch only side strands, both at ears level behind crown. This hairstyle is included in hair trends 2017.

Wrap strands in shell shape and gather them under claw clip.

Repeat last method leaving strands' tips loose.
Everyday hairstyles: Barrettes
Asymmetry became one of hair trends 2017. Accent it even more with few small barrettes!

Decorate ponytail or braid with interesting massive barrette to transform them into evening hairstyles.
Loose hairstyles 2017 should be bright too! Unusual designed barrette on one side should accent your face beauty.

Japanese hair sticks transform usual bundles into mysterious romantic hairstyle.

Combine previous option with tiny loose strands near face to get unbelievable image! Leave some bundle strands loose too if desired.

We hope, our «Everyday hairstyles: Womens hairstyles 2017» article helped you keep hair trends 2017 and be different whenever you want!