Golden hair color is always in fashion. Today, again, it's at the peak of popularity with all shades of golden blonde hair 2021. Golden blonde hair attracts men. Let's speak about golden blonde hair 2021 trends.

 Golden blonde hair 2021: stylish gold blond hair 2021 trends
Golden blonde definitely doesn't suit girls with dark skin, as it can give a grayish face. Golden blonde goes well with girls with spring colors. The apperance of a girl in this color type is light and radiant. What is a spring color type?

Eyes should be green and blue, as well as combinations of blue and green
Skin is usually in peach tones, or a combination of peach and porcelain, apricot tones
Spring is characterized by freckles

Spring type is a striking brightness and sunshine, so if your color type is spring, then choose gold blonde hair 2021
In case you have brown eyes, darker skin, but you want a blonde color, then choose blonde with shades of cream and beige.
Girls of fall color types will also suit golden blonde hair 2021, but of copper, light brown and dark tones.
Golden blonde hair 2021: advantages and disadvantages
Advantages of golden blonde hair 2021:
Gives grace to the style
Attracts the attention of men
Emphasizes the advantages of the appearance, hiding minor flaws
Golden blonde allows you to look a few years younger.

Disadvantages:
Hair spoils under the influence of dyes, bleaching
With a natural dark tone, regrown roots are quickly seen
Blonde requires special care. Special shampoos, masks, balms are needed
Excessive dryness. When exposed to moisture, for example, in the rain.
 Trendy hues of golden blonde hair 2021
You will be surprised by the variety of hues of gold blonde hair 2021. Each shade is unique in its own way.
Wheat is one of the popular shades. It's suitable for spring type girls, but is contraindicated for summer types. Golden blonde will fit girls with blue eyes.
Dark blonde color also has a golden shade. There is an interesting color topaz, which is trendy in this season.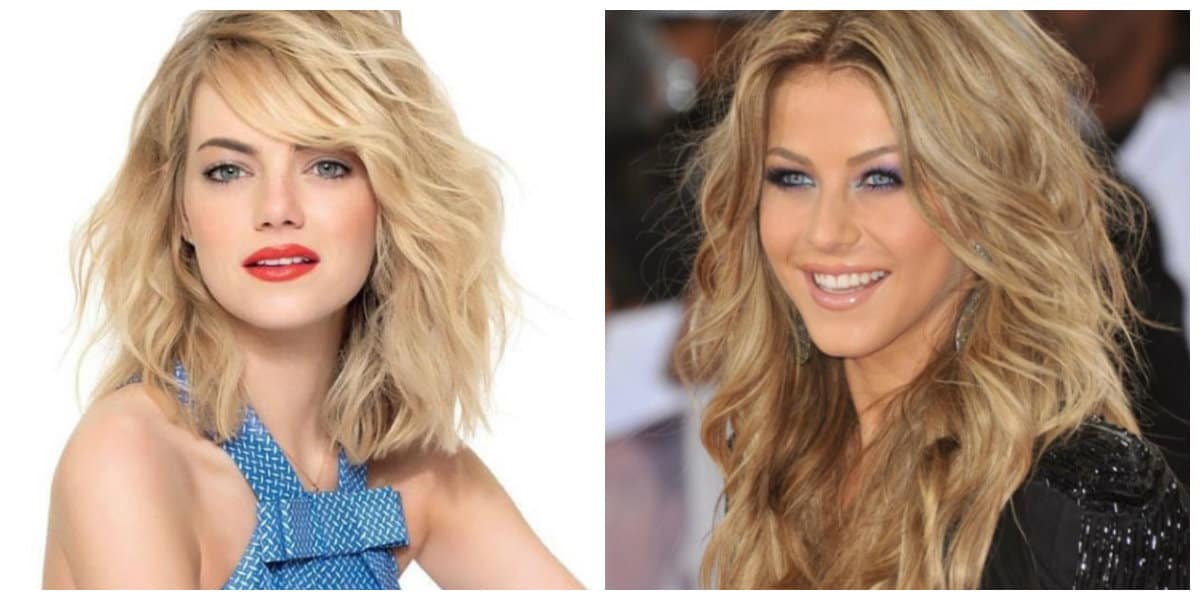 Honey and amber are also in trend. Honey color is not for all girls. The eye color should be brown, amber, green. It should in no case be light: blue or gray. Skin color should be olive or a delicate palette. One more thing: it would suit better to girls who have natural wheat hair shade.
Copper is ideal for autumn color types. It'll emphasize the eyes and make you irresistibly bright. It's important that skin color is warm.

Golden nut is a beautiful color. In the palette, there is a stunning tone of roasted coffee, coffee, and chocolate-chestnut tones.
Caramel is a gentle and a saturated color. Caramel is suitable for spring and autumn color types. Eyes should be in hazel, amber, green shades. It's suitable for girls even with bronze and dark skins.

Rose gold blonde hair 2021 is very fashionable. It isn't necessary to dye all the hair in pink. You can do just a couple of strands.

Folk remedies for taking care of gold blonde hair 2021
Folk remedies are not able to drastically change the color of the curls. However, you can give a pleasant shade, slightly lighten and treat the hair.
So, tool number 1! This is lemon. How to carry out procedure?

It's important to know that lemon mask is suitable only for fatty and dense curls. Squeeze the juice from one lemon. Mix with a little water. Pour into plastic dishes. Lemon will brighten to a maximum of 1 tone. Additional bonus is that the hair becomes silky.
Tool number 2 is chamomile
Brew the chamomile. After washing your head rinsed with the resulting mass. Your hair will acquire a golden hue.