Skies' boundless beauty makes us admire, mesmerizing with distant stars glimpses, magic colors and countless mysteries… We wait for another wonder: star rains, eclipses or Northern Lights with bated breath. Last years we could see Saturn's images, Mars literally from its surface, amazing pictures of our native Earth and startling galaxies.
No wonder, fashion followed science, glorifying its achievements and space's beauty. As ideas born in heads, hair trends 2017 found right place for infinite thought and imagination flight symbolizing colors – right on head!

It's called Galaxy hair, making all womens hairstyles 2017 look royally!
Read our «Hair color 2017: Galaxy hair» article and try!
Hair trends 2017: Skies on head
First inspired from space photographs, stylists expanded Galaxy hair color 2017, adding Northern Lights', cosmic objects', sunset or dawn colors.
You will like topics on:
Men preferring dark extreme colors tried that trend also.

Any basic color could be dyed into galactic one, any appearance type has it's suitable «mini-space»! Though, most of dark bases need bleaching.
Desired colors themselves should be achieved with toning.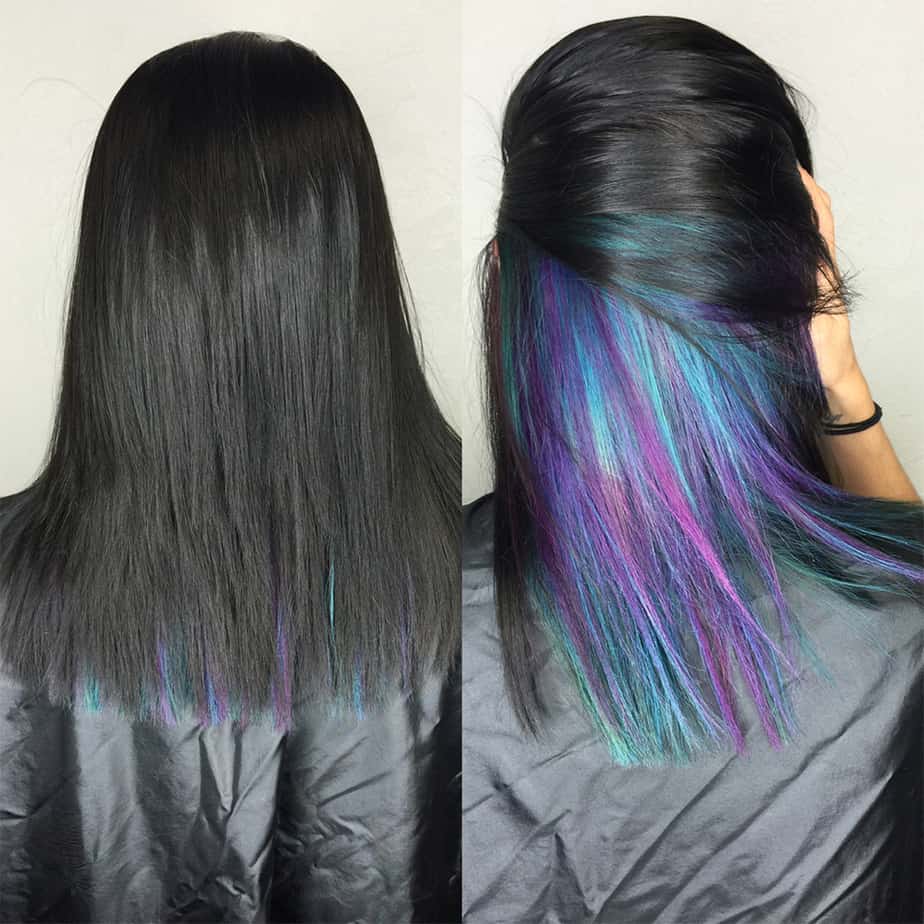 Hair trends 2017 open wide variations specter for cosmic hair: partial, balayage, hidden dyeing, ombre techniques, etc.
Sometimes skillful people dye Galaxy themselves, but we strongly recommend you making it with professional stylist!
Hair color 2017: Find your Galaxy!
Let's approximately find, what we'll ask from stylist.
If you have dark base, it could need bleaching. Take care about their health in advance! For example, use burdock oil.
Define your appearance type. Find suitable colors list.

If in doubt, get multicolored textiles or papers. Look in mirror and alternately bring them to face. Really suitable colors make skin and eyes shine! Write their list.
Mentally correlate them with your image and taste.

Search for skies and galaxies photos with founded color scheme.
Show one you like most to stylist!
Discuss dyeing options together. You can see hair trends 2017 list on COOL HAIRCUTS also!
Womens hairstyles 2017: Decorate your Universe!
Your hair universe would change it's look with different hairstyles! Short haired men task should be easy to solve: just change parting! Simple straight cosmic hair already looks amazing! But womens hairstyles 2017 give larger opportunities for accenting your amazing color!
Hair trends 2017 make us say "yes" to accessories! Simple days, parties or your wedding will become brighter, if you'll add diadems and barrettes with stars, planets or even aliens!

Small silver sequins should make your "skies" shine with "stars"!

Popular wavy womens hairstyles 2017 should discover your colors in new ways!
Braids become your best friends. Any kinds, you want. Especially recommended for hidden Galaxies happy owners!

Dreads and Galaxy hair color 2017 make you real alien beauty!

At last, all womens hairstyles 2017 made for you!
Hopefully, our «Hair color 2017: Galaxy hair» article already inspired you to cosmic changes!