Pixie came into vogue at distant 1953, when Audrey Hepburn appeared on screens in "Roman holidays". Since then, it became real rebels' favorite haircut. Pixie haircuts bring your image certain recklessness and enthusiasm. Such simple haircut can turn you from modest puritan into real rocker, even though hair would be short.
Haircuts 2017, based on Pixie, give opportunities to get any image you need.
Let's find your makeover with our «Hair trends 2017: Pixie haircuts» article.
Haircuts for women: Who should choose Pixie haircuts?
Pixie based haircuts for women should be ideal for large facial features. Pixie accents face! Pixie emphasizes puffy lips, expressive eyes, focusing all attention on area above neck.
Haircuts 2017 changed classic options with pretty modifications. Elongated pixie with short bang should be best option for oval or round face, making it more delicate and elegant.
You will like topics on:
Short haircuts for thin hair 2019
But radical changes by short haircuts aren't always suitable for plump face.
We advise you to pull up hair and look in mirror. If you like result, safely go to professional master and ask for your ideal Pixie!
Haircuts 2017: Different lengths Pixie
Classical short haircuts, based on Pixie, easily get styled with foam or gel, without hairdryer or "ironing". These haircuts for women look rather feminine, although they definitely include joyful boyhood notes.
Medium Pixie option developed as modification from modern stylists. You should be able give hair stylish neat form keeping length. Multi-layered haircut gives hair volume.
Hair trends 2017: Pixie with fringes
Pixie haircuts with long bangs become pretty feminine and dynamic. Choosing a variant with one-sided bang, you'll easily change image, differently styling long strands. Long bangs make short haircuts extra elegant. Use them or add shaved temple to keep Hair trends 2017 with asymmetry also
.
Refined, romantic natures often prefer pixie with short bangs. It refreshes and opens face, makes it even younger. Pay attention on it, choosing haircuts for women with rounded face.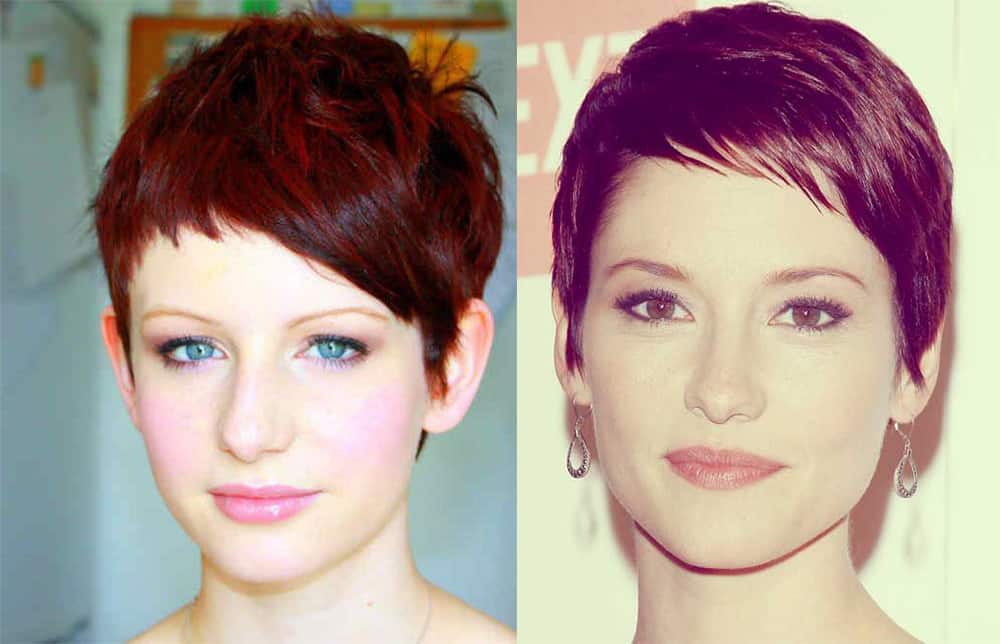 Pixie bob, as two fashionable haircuts 2017 synthesis, is extra actual. Thanks to volume on crown it visually shortens long nose. Hair shouldn't be cut too short, bangs left also.
Hopefully, our «Hair trends 2017: Pixie haircuts» article inspired you reveal your face beauty with impressive Pixie!