Many women will be able to find the perfect hairstyles among female haircuts that will be fashionable in 2021.
So what hairdos will really be in 2021 hair trends? We will try to tell about hair trends 2021 in our review.

2021 hair trends: fashionable hairdos for short hair
Haircut 2021 women's stylish options
What are the stylish updo ideas in 2021 hair trends?
Bob remains one of the stylish hairdos. It should be noted that bob can look great on women with both short and medium length hair. Anyhow, this haircut looks very impressive.
Perhaps its only drawback is that it will be necessary to style your hair almost every day. Bob has several options, among which there are several fashionable hairstyles 2021 female haircuts:
classic bob
asymmetrical bob
bob with torn or straight bangs.

2021 hair trends female asymmetry on short hair
Asymmetry is a choice for women who are tired of dress code, strict business style, rules and frames. Craving creativity and fashionable experiments: that's what women are guided by when choosing this haircut.
There are several options for asymmetry: a typical smooth transition and torn effect. The following haircuts can be made in such solutions:

Traditionally, when choosing asymmetry, stylists recommend women to immediately choose creative coloration, which differs from natural shade.

As for recommendations, asymmetry is suitable for those who understand and feel sports style in clothes.
In addition, these haircuts are well combined with youth style.
You should also take care of the spectacular makeup that would transform the face and emphasize all the features.
Trendy haircut 2021 women's medium hair
Among fashionable 2021 hair trends for medium hair, the following haircuts deserve some special attention:
cascade
elongated bob
graduated bob.

Cascade will always be in trend. It suits women with medium hair. At first glance, it seems that this haircut is very simple, but it isn't.
Cascade brings lightness and some negligence to the style, which is the basis for a romantic bow.
Bangs, asymmetry or a shortened nape refresh any style.
Ragged cascade will appeal to brave women who aren't afraid of heightened attention to their persona.

It should be noted that this marvelous haircut is quite problematic for curly hair. In addition, it will be difficult to maintain its pristine appearance. In this case, it would be more logical to abandon the cascade in favor of something else.
Elongated bob and shaved head
Modish elongated bob occupies the leading position in 2021 hair trends. A shaved head looks perfect In combination with it.

For those who are difficult to get surprised by shaved heads its worth considering drawings on the head.
Experts in the field of hairdressing are also recommending choosing a shaved whiskey.

Graduated bob will suit those women who couldn't choose between cascade and bob. By the way, bob will suit the owners of fine hair. This haircut visually imparts volume.
It's enough to learn how to famously style your hair so that bob creates an effect of maximum volume. Bangs will add flirtatiousness to the style.
How to make bob hairstyle?
There are several options for laying bob. Among them:
laying with straight locks
wave
neatly disheveled hair with waves.

Make your hair perfectly smooth, using straightening irons. The main thing is not to forget the special remedy that prevents hair from drying out.
In order to give wavy shape to the hair, you need an iron. The same applies to neatly disheveled styling.
What hairstyles to try for long hair
Choosing a fashionable female haircut, try on the following hairdos:
cascade
haircuts with bangs.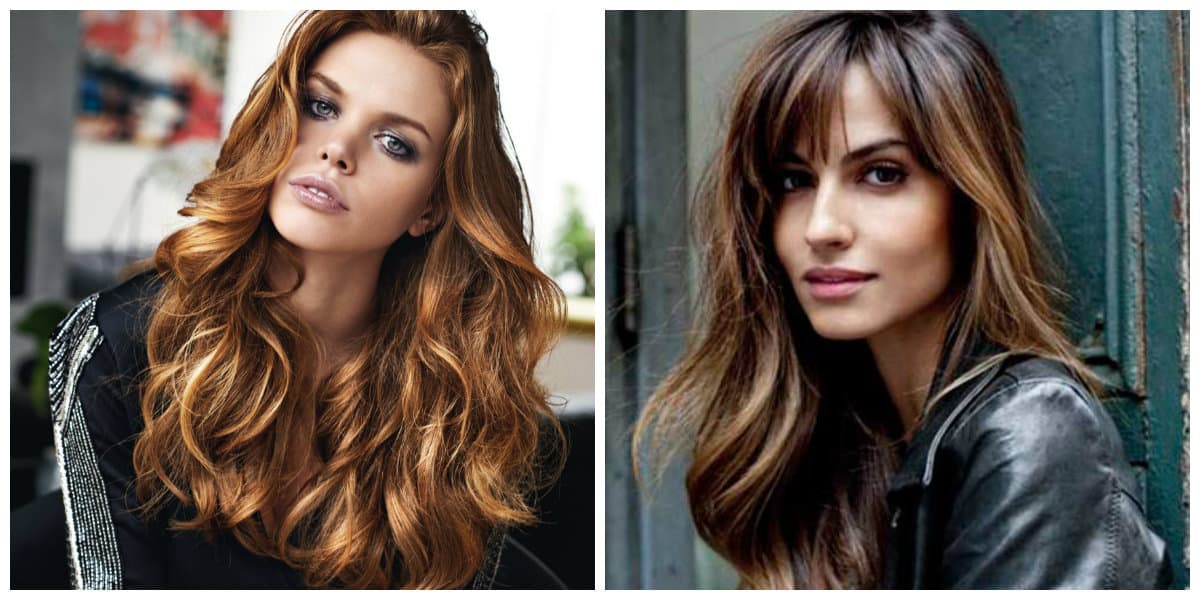 Cascade can be classical, torn or asymmetric. It doesn't need special care. In order to create a festive look, it's enough to give hair volume. For example, it can be Hollywood ringlets.
It's quite easy to get such a haircut at home. By the way, for this updo, it isn't necessary to use hair curlers. Ironing will be suitable as well.

Haircut 2021 women's bangs
Bangs will bring freshness and tenderness to your style. By the way, this is what will be in trend throughout the year. When deciding what style of bangs to choose, take into account the shape of the face.
Round torn bangs fit round faces. Owners of oval faces should look at thick bangs with rounded edges. Thick bangs with torn edges look good in tandem with square or rectangular faces.
While choosing one of these styles, one should remember the dress code at work or in an educational institution. In places where appearance is assessed very strictly, bangs of screaming shades or of an unusual shape will be inappropriate.
Trendy shaggy haircut
Many women are still unfamiliar with this haircut. Stylists are sure that in 2021, it will literally blow up the fashion podiums.
Shaggy haircut is a graduated haircut with chaotically highlighted strands. Due to its thin form, the hair get full volume.

In addition, the shaggy hair pulls out the face, giving it the right shape. Women with round faces will appreciate this novelty. At first glance, shaggy is very similar to a long bob or elongated bob.
Tips for hair care for hairstyles 2021 female looks
When choosing one of the trendy haircuts, remember that hair will look lackluster, if you don't care for them.
Thus, once a month visit a beauty salon, in order to give your hair the desired form.

In addition, it's important to use proper care products. It's desirable that it is picked up by a specialist. Observing these and other rules, it's easy to look stunning and attractive with any haircut.