Let's get acquainted with rose gold hair 2021 trends. Fashion for certain colors and shades can walk in a circle for several years or regularly come back every few seasons.
Now a powdery shade of pink, which in the palette of hues is designated as rose gold has been reborn. Its popularity has lasted for several fashionable seasons in a row.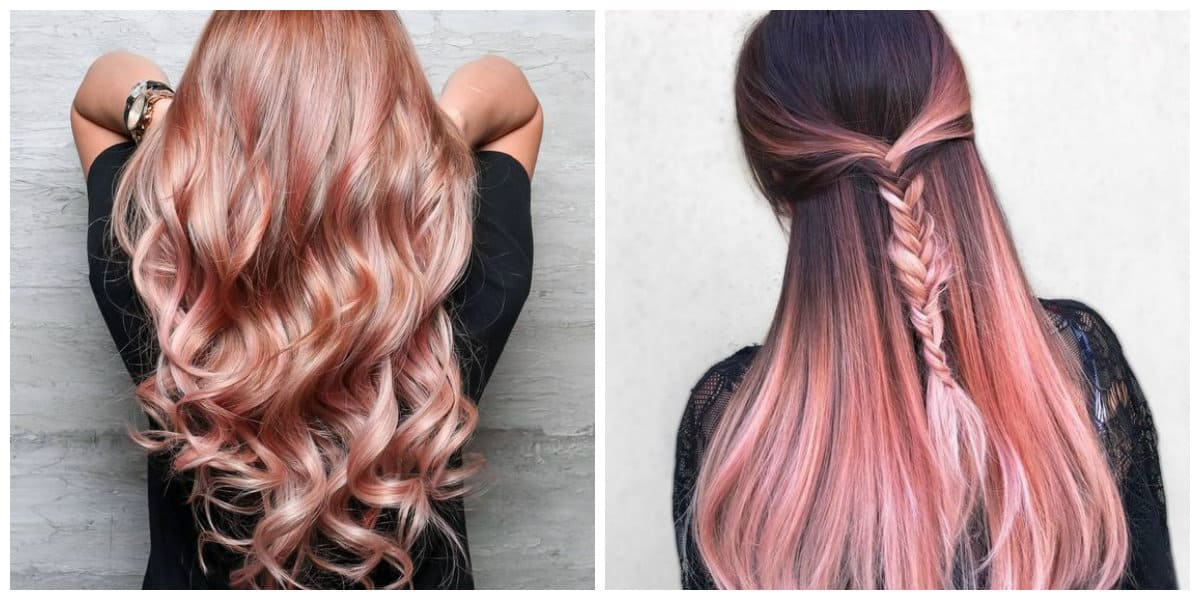 Rose gold hair 2021: how did rose gold trends appear
Today, the world celebrities and Instagram celebrities dye their hair in this color. Rose gold hair 2021 is one of the modish trends of this season.

Pink has a long history in the world of fashion and beauty. Almost any of this shades correspond to a certain style, for example, if pure and bright fuchsia is punk style, then the color of pink powder is vintage elegance.
Rose gold itself combines two gorgeous colors into something unique, elegant and stylish.

Many celebrities experimented with rose gold (Bella Hadid's or Salma Hayek's wig at a party in Cannes).
Also Blake Lively, Kaylee Jenner, Katie Perry, Hayley Baldwin, Sienna Miller, El Fanning, and many others. The love for pink shade, which we often call strawberry blond, unites stars from Jemima Kirk to Kate Hudson.

Stylish rose gold hair trend 2021
Let's find out stylish tones of rose gold hair 2021.
Warm peach rose gold blonde hair 2021:
fashionable pink is close to peach and golden is closer to yellow. This is very good for women who have darker skin, but for the owners of pale skin, such shade also would be a good choice.

Lavender and ashy blond for rose gold hair trend 2021
Cool shades of rose gold are perfect for girls with light skin and hair. In case your hair has shades of light-blond, then purple-ash-pink will be much better combined with your type of appearance.

Rose gold balayage as rose gold hair trend 2021
It's an ideal choice for those who have darker natural shade and want to avoid frequent discoloration.
Color of rose gold goes well with almost all natural shades of hair, so you can dye only the lower part of the hair, not caring about the roots, or paint a few strands near the face in shades of bright pink and gold.

Rose gold hair 2021: how to care for rose gold hair
In order to preserve rose gold hair 2021 little longer use our tips:

Use shampoo for colored hair marked without sulfates – it delicately cleanse hair and helps to keep the color in marvelous in the original condition.
Don't use shampoo too often. Frequent washing quickly washes away the color and doesn't benefit the health of the hair. Find a middle ground between the frequency and purity, gradually taming the hair for rarer washing.

Arrange regular nourishing for your hair, healing masks or use coconut oil to keep your hair healthy and shiny as long as possible.
Wash the hair with cool water.

Try not to use electric heating devices that overheat the hair and harm their structure. In case you can't do without a curling iron, use thermo-protective hair sprays to help protect them from damage.
Avoid chlorinated water in swimming pools and don't forget about a swimming cap.