Extra stylish purple fantasy hair color quickly gets popularity by noble, still exotic look. It never occurs in nature, so stays hard for achieving. Though, dark purple hair considered to be easy available even for brunettes, if you make dyeing right.
Blondes can cardinally change their look by those dark hair ideas making dyeing in just one step!
Learn admirable dark purple's secrets in our «Stylish upgrade: Mysterious dark purple hair» article.

Fantasy hair color: Desired dark purple achievement
Pure purple made from red and cool blue pigments mix. It doesn't include yellow pigments!
Dark purple can be easily realized on cool dark base. Though, if you need brighter tone, take professional's advice. Maybe, you should make soft bleaching and removing brass before coloring getting saturated fantasy hair color.

Cool toned blonde base should be colored just with dye or toner. Remove yellow shade before, if it's present.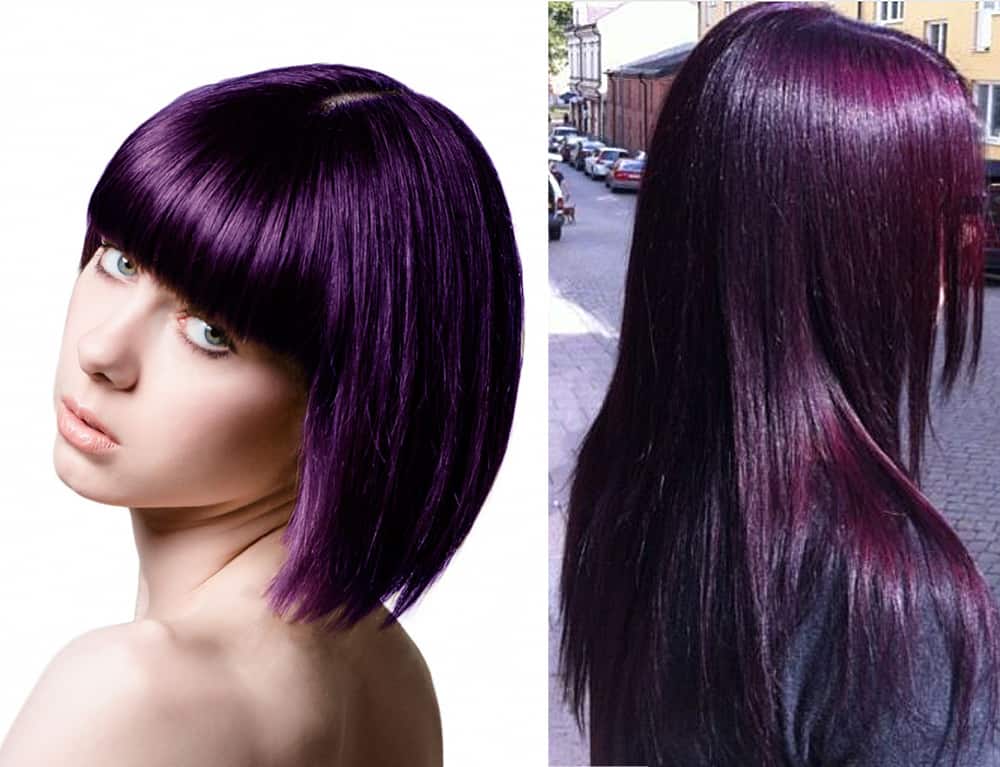 Copper should be dyed harder, though, possible. Orange base extinguishes blue pigments brightness! Maybe, you'll need previous bleaching.

Red hair (here we mean clear red) sometimes transform into purple with blue pigments only.
Though dark hair ideas often considered being most unpretentious between purples, we still advice you coloring with good stylist. Violet interacts with other shades, so if you've dyed hair in saturated colors before, try hair color remover before going purple.
All these manipulations with bleaching and removing require ideal hair health. Take care about it beforehand!
Dark purple hair: Deep purple magnificence
Pure vibrant dark purple hair accents hair shine and any eye color itself.

Make dark purple ombre on basic black, brown or even blonde hair.

Juicy dark purple and dark blue create mysterious light and shadow play!

Cascading hair colors with smooth gradients from dark purple, brown, even green… Why not? Make dreams realize!
Got plain cool blonde hair? Let's add fantasy hair color! "Sudden" dark purple roots should give your hair visual volume and vividness.

Dark purple dip dye looks extra cool!

Hopefully, our «Stylish upgrade: Mysterious dark purple hair» article gave you enough inspiration to try!