Trendy hairstyles 2020 are worth considering as a complex and multifaceted phenomenon. On one hand, it surprises, because fashionable hairstyles are quite simple in execution. Feminism, HLS and Eco life ideologies reflected in next important nuances.
Fast easy styling methods, available for any women.
Ethnic, naturalistic motifs abundance.
Fixing products' minimal usage. It causes less harm to environment and our health.
Basing on previous point, hair designs for womens become slightly careless. Disobedient strands, "escaping" from hairdo near face, just give you charm! Don't use anything for curbing them and you'll fall into the very heart of hair fashion 2020!

On other hand, trendy hairstyles 2020 reflect humanity and art history. It prevalently catches eye in bright, often ecologically clear accessories rich usage.
We should notice, hair designs for womens won't be copied from past ones! But any of them reminds beautiful mysterious story about past civilizations, cultures and art, told by our contemporary, in modern listener language.
Read our «Trendy hairstyles 2020: Great hair designs for womens» and retell your own unique one!
Trendy hairstyles 2020: Welcome to… Athenian Empire!
Let's make little imaginary time and space journey to understand trendy hairstyles 2020 conception.
Against a backdrop of Ionic columns and mysterious ruins decorations, Hellenistic images, seeming familiar, come alive …
Viewer involuntarily awaits the ancient Greek goddess appearance…
That miracle happened nowadays, conceived by great Karl Lagerfeld for Chanel's Resort 2020. Hairstyles and accessories in Athens golden age spirit played significant role in show's spectacularity! We can only admire and learn hair fashion 2020 principles from great masters!
Mostly we see simple base: half loose hair with thin free strands near face, sometimes, with braid and slight waves, but… accessories leave no words!
Hair designs for women with laconic satin headbands or ribbons already become so refined and feminine! Use black, silver, light golden ones.

All other headbands stay on satin base. It's very stylish and smart solution to accent your hair shine! You're welcomed to combine any other brand or self-made Greek style headbands with satin ribbons.
Trendy hairstyles 2020 often include variable braids. Wear goddess's braid – as golden braid imitating headband.
Besides golden color, you'll notice blue, tender green interweaving. Those colors characterize Greece nature best. Remember Mediterranean Sea waves and famous laurel…
And here's laurel! Headbands and barrettes with it's gilded simulation surely should decorate trendy hairstyles 2020. Laurel looks admirable both in blooming and ripening time, so you're welcomed using both imitations.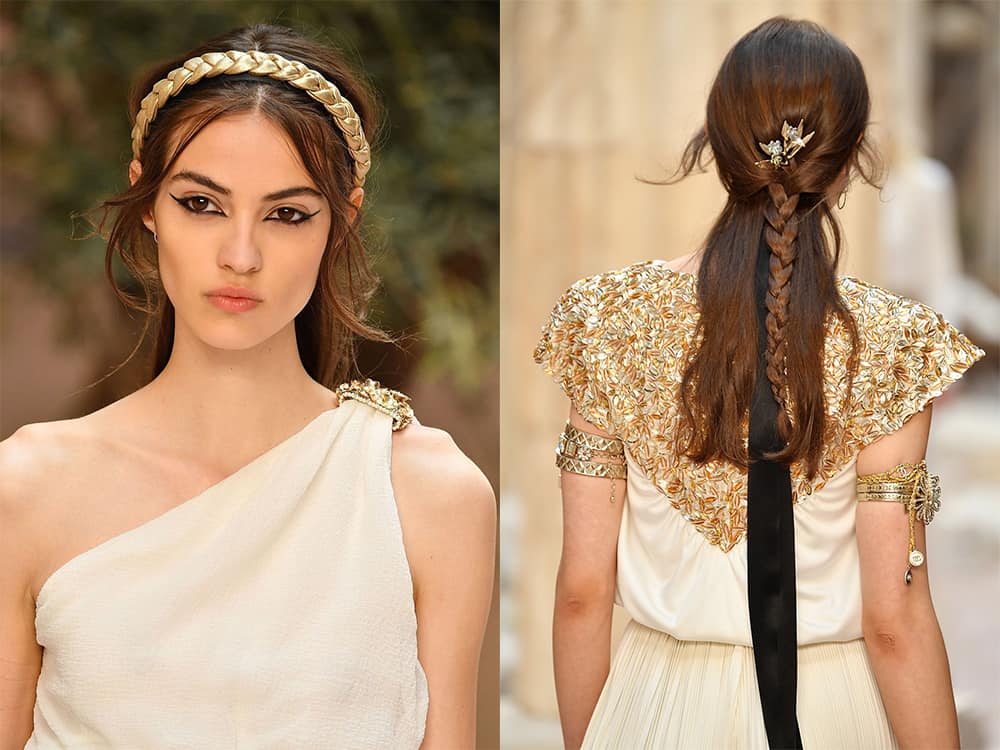 Same concept stays true for olive and tender flower motifs.
Any Greek style barrette can be enriched with long ribbon.
So, you already know, how to awaken the Greek goddess in yourself! But get ready, our time travel continues!
Hair fashion 2020: Out of time Renaissance muse
Now our search for trendy hairstyles 2020 led us already in Renaissance times. Interior with elegant gold-plated elements and many paintings create right mood.
Seemingly slightly unreal music enriched by charming harp sounds… But emerging images make us lose sense of time and epoch. It looks like Renaissance women had fancy for hippie culture! It's Gucci Resort 2020 show! And so we see some surreal, inspiring looks – and, in particular, fascinating hair fashion 2020!
Need win-win hair designs for womens? Style, as you were off the Renaissance canvas! It may be long loose hair with smooth waves, like you've dried it naturally, or complex hairdo in epoch style.

Use diadems or other accessories typic for Renaissance. You'll look like beautiful noble fantasy heroine!

Textile accessories on Renaissance and hippie style's periphery create interesting image by themselves!
Combine with natural fresh makeup (get inspiration from paintings too) or fashionable black lipstick, as on Gucci show!
We, think you already love hair fashion 2020. So, we move forward into 20th century – brightest options wait us here!
Trendy hairstyles 2020 – hair designs for womens from 60th to punk!
We need trendy hairstyles 2020 for cold seasons also. And Chanel helped us, creating extra stylish solution – let's discuss it.
Base is retro hairstyle, inspired by 60th and Twiggy. You need just combing hair back and making bouffant from back. Leave upper strands to cover.
Main detail, making it fit hair fashion 2020 is unique knitted headband. In its design Chanel made futuristic accent, covering headband's entire middle with metallic elements.

Most models got decoration over metal layer: refined futuristic pearls and other stones. They remind little planets. Awesome!
You've got one of rare trendy hairstyles 2020 with big volume. Thin haired should use that option boldly. Combine with Twiggy style makeup and futuristic clothes.
Another option – straightly edged square with such warm headband above it.
Hair fashion 2020
60th broke gravity's old chains for human. So, we're getting stronger, and it's time to break all chains in our minds! Let's go punk! Vivienne Westwood created looks don't need being represented – they always speak for themselves. Andreas Kronthaler inspired by Vienna Modernism created unbelievable AW 17/20 for Vivienne Westwood.
Of course, it includes really great hair designs for womens!
Unexpected, little childish, thin braids appear, framing face or from upper loose hair layer. That trick helps accenting changing hair texture.

Volume should be uneven also.
Pay much attention on color here! Dyeing made really amazing! Hair fashion 2020 got new big advantage. Combine your natural base with it's shades and contrasting bright part. Accent it with asymmetric styling – more volume, changing texture or making ponytail or braid from it.

Look at Vivienne Westwood's amazing color! Icy and pastel shades can decorate any trendy hairstyles 2020!
Hopefully, our «Trendy hairstyles 2020: Great hair designs for womens» article should help you spend 2020 year with great joy! Be unique and happy! With love, your COOL HAIRCUTS.