Bright ethnic hairstyles became real 2017 hair trends! If you're long African braids happy owner almost any metamorphosis on your head should be real and handy for making. Just loose braids, of course, look wonderful, but monotony quickly bothers. Stay to, because African braids hairstyles is for you.
You will also like:
Learn best hairstyles 2017 for your refined hair in our «Womens hairstyles 2017: African braids hairstyles» article!
2017 hair trends: Afrobraids + Bandana
Womens hairstyles 2017 tend to retro. Collect braids in high ponytail and fix it with wide elastic band, for even more beauty you can use bandana or silk handkerchief. Place it, how you like, for example, at tail base.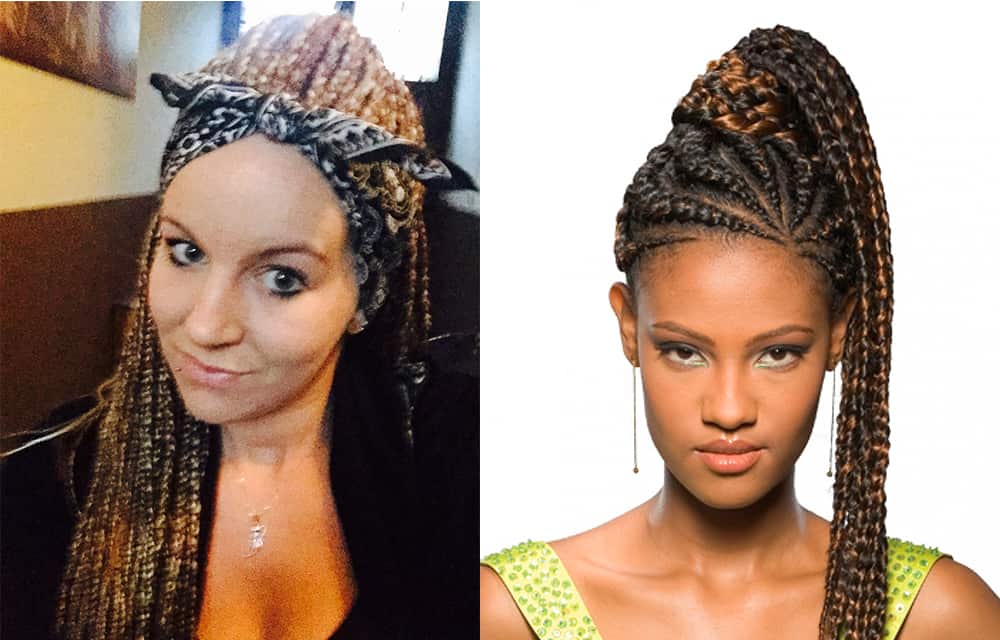 Plait big braid and decorate it's bottom with bandana.
Include bandana or hair scarf in plaiting.
African braids hairstyles: Variations on bundles theme
Top knot or any bundle with Japanese sticks makes you look amazing. Variable Japanese sticks included in 2017 hair trends, as universal accessories, so use them boldly!
Leave some loose braids from knot.
For even more stunning effect, you can release couple of free braids near face. This hairstyle is ideal for party. Combine it with original jewelry to compose epic look!
Hairstyles 2017 include joyful two buns option. Try it to enjoy good mood more!
More hairstyles 2017 with Afro braids
Brides with Afro braids look like fairy-tale princesses! Wedding hairstyles 2017 with Afro braids should be neat with wider accessories range.
Afro braids can be curled also, all entirely or only at tips.
2017 hair trends brought us amazing hair piercing. These beautiful small rings should accents your braids incredible beauty! Any accessories, as feathers, beans, small stones, would tell about your bright personality.
Hopefully, our «Womens hairstyles 2017: African braids hairstyles» article will help you look even more stylish and create awesome image for your every day look.