Curly hair always looks spectacular and attracts attention of others. Albeit, owners of natural curls themselves are less optimistic and claim that curly hair gives them a lot of trouble. Professional hairdressers, in turn, say that high-quality haircut can save curly girls from problems with their styling. What kind of curly hairstyles 2019 will be popular?
Curly hairstyles 2019: fashion trends
Especially voluminous hair will be in curly hairstyles 2019 trend. Asymmetric and creative haircuts, due to which each girl will be able to show her individuality, should be mentioned among fashion trends.
In this case, it's necessary to take into account not only length and structure of hair but also personal data.
In 2019 will dominate style of minimalism. Bob haircut beats all records of popularity, which, in combination with curly hair, will provide fashionable woman with bright and free image that everyone around will certainly prize.
This combination looks feminine and is suitable not only for businesswomen but also for romantic natures who want to look more vivid. Outside of competition, haircut messy bob. It suggests chaotic styling with huge number of loose curls.
Trendy asymmetrical hairdo and trendy bob updo
Use of asymmetrical styling in curly hairstyles 2019 allows hairdresser to adjust volume and overall appearance of hairdo. For those who want to create unusual image in style of avant-garde, asymmetrical bob will be ideal. In this case, individual strands in certain place are made longer than others. Oblique or asymmetrical bangs will help to create stylish image.
Bob on curly hair
Actual in 2019 will be long bob, effectively looking on curly hair. But classic bob, up to earlobe is no longer modish, as well as straight volumetric bang. Instead, make parting and don't cut bangs. In this way, according to stylists, fashionistas will look perfect.
Versatility of such hairdo is that it's suitable for both thin and thick curls, helping girl to emphasize her image. By cutting bottom edge, you can attain maximum volume and lay curls in direction you want. Profiling and graduation of hair tips will add to image stylishness.
Curly hairstyles 2019: modish cascade hairdo
For curly shoulder length hair, cascade hairdo will be ideal. Thanks to this hairdo, you can visually change shape of face. Waviness and volume will allow you to hide puffy cheeks and narrow face.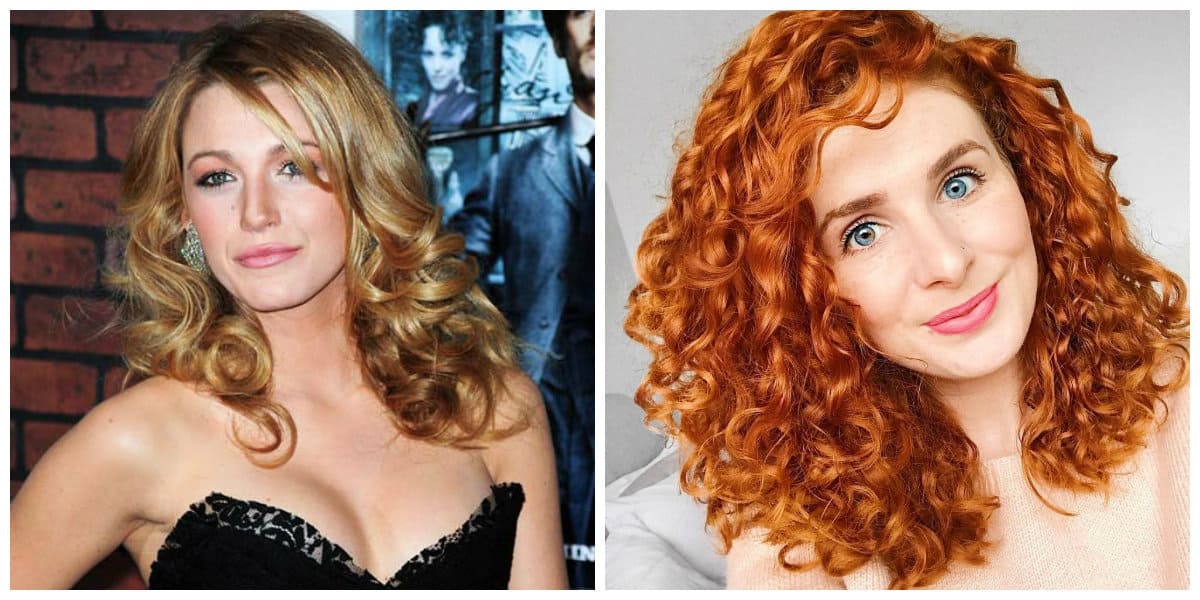 For owners of round face cascade will be suitable. In this case, curls will hide cheekbones, and volume on crown will make face more elongated.
For strongly curly and tough hair, clearly defined layers are preferable. And in order to visually increase volume of hair, it's possible to color individual strands. In addition, hairdressers are confident that cascade is quite simple to care for and even the most complicated styling won't take long.
Curly hairstyles 2019: Creative haircuts
If you want to get flamboyant image, choose creative hairdos. In 2019, shaved head or temples will be relevant. In this case, shaved area can be supplemented with drawings. Such haircuts will look original with bangs: it can be asymmetric, layered or double.

Curly hairstyles 2019: voguish pixie and Aurora haircut
There is opinion that only girls with straight hair can make pixie haircut. But stylists have proven that this isn't the case. Pixie is short haircut with maximum graduation. In complex with slanting bang, this hairstyle looks very romantic and is in curly hairstyles 2019 trend.
Haircut Aurora
This hairdo was popular a few decades ago and now fashion for it has returned. But this hairstyle doesn't suit those who have too little curls. It allows adding to image notes of mischief and carelessness.
Modish garcon and patchwork haircut
Primarily, this hairdo was entirely male, and today it's chosen by many girls. Like pixie, it emphasizes open neck and ears, only all strands are same length. Such haircut looks ideal on slender fashionistas with bright features. Garcon haircut permits you to focus on face. Therefore, girls who choose this hairstyle should be attentive to their makeup.
Patchwork haircut 2019
So-called haircut, in which torn hair are made over entire surface of head. Its privilege is plainness of installation. Hairstyle is marvelous for medium hair length. But long-haired beauties shouldn't refuse this updo, because with this modish haircut you can make alluring grunge hairstyles. In 2019, stylists recommend combining patchwork haircut on long hair with slanting bangs.
Haircuts for round face
If you need to hide excessive roundness of face, then long, asymmetrical bangs will certainly help. For those who have high forehead and large nose, long bang to eyebrows will fit.
At peak of popularity in curly hairstyles 2019 will be arched bangs, splendidly combined with any hairdo.
Haircuts for thin curly hair
For owners of thin curly hair, short haircuts will be ideal. Style is chosen on basis of appearance.
One of the most corresponding options will be pixie with so-called cap at top of head and trimmed back of head and temples. Symmetrical haircut will look harmoniously with any type of face, smoothing out possible flaws. Asymmetric pixie looks better on elongated face.
Suitable option for short hair would be short bob. This hairstyle will ensure missing volume and emphasize features of hair structure. In order to focus on cheekbones, you should choose the shortest bob.
With thin hair, hairdo always lacks volume. In order to achieve volume of hair, you can use graduation of hair.
Stylists were able to prove that correct choice of haircuts, will allow girls with curly hair always remain superb and splendid, without spending much time on styling.