Let's talk about long bob hairstyles 2022 trends and ideas. In case you aren't an owner of this popular haircut, you probably thought about it or even considered several options.
Bob has many different ways of execution, the exact number of which even the most experienced hairdresser-stylist can't tell you. However, a distinctive feature of this haircut is considered to be the volume and the silhouette.

Long bob hairstyles 2022: voguish styles and trends
It should be noted that every girl can pick up bob haircut for herself. Universality makes bob trendy and popular.
Beauty industry can offer a lot of options selected by individual requests and features of clients. When choosing your type of long bob hairstyles 2022, you should pay attention to the following:
graduated bob is an excellent choice for owners of thin curly hair. This option will give volume to the entire hairstyle and will allow you to avoid pomp on the tips of the hair

In case the curls are wavy and thick, then you should turn your attention to bob with elongated front strands.
Such choice will facilitate the styling process. Long strands are easy to align or wind into neat curls.
straight hair of medium thickness gives its owner the right to choose any of the options of elongated bob.
Long bob hairstyles 2022 for various face types
Face type is an important criteria when choosing a hairstyle. Bob can adjust the oval in the right direction, you just have to choose the right option.
with a narrow face, it will be correct to choose voluminous bob with smooth lines. Such haircut will round the face and give femininity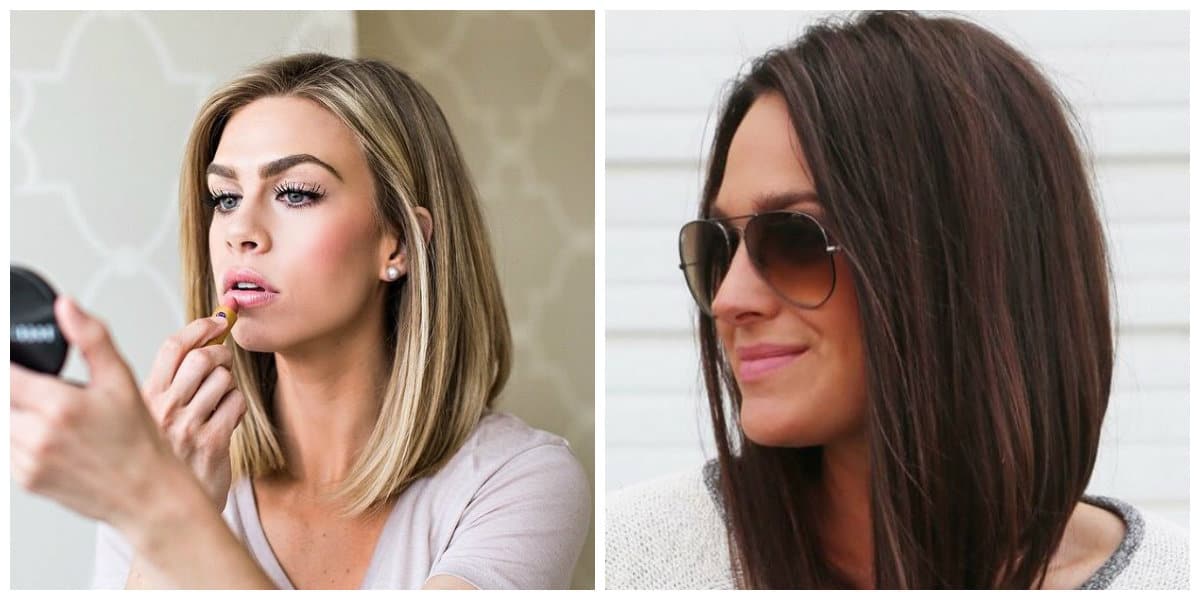 with protruding cheekbones, straight bob will be a great choice. In addition, it perfectly hides the plumpness of the cheeks, softens the nose and the chin
Bob with torn or oblique bangs will suit girls who want to hide such features of appearance as large cheeks or a nose, a high forehead.

Elongated bob is considered a universal hairstyle and is suitable for girls with any type of face, hair color and texture. Thus you should only use the fine details of the haircut properly, and they will play into your favor.
Long bob hairstyles 2022: modish styles
In addition to individual external characteristics, when choosing a hairstyle, it's important to pay attention to the lifestyle. After all, hairstyle should not just beautify, but also create a feeling of comfort and give confidence.
Asymmetrical bob will emphasize your individuality, will create a unique style and won't leave you unnoticed

Romantic and light women will like the version of the multi-layered bob.
This hairstyle will give carelessness and freedom to its owner's style.
Graded strands falling on the forehead will give tenderness and refinement to the look
bob with clear contours and bangs fits decisive and active girls, always ready for action.

Stylish ideas for bob hairstyles 2022
Owners of long curls are in an advantageous position when choosing bob hairstyles. For them, stylists prepared stylish ideas for impersonation:
Bob without bangs on long hair will be loved by girls who are always in a hurry and value their time.
Lack of bangs allows you to make a decision about a new hairstyle with a lightning speed: you can walk with flowing hair over your shoulders, and after 5 minutes you can afford a trendy high tail.

Bangs can change the face beyond recognition and adjust it to your requirements. The main thing is to make the right choice, in which the specialist will undoubtedly help you. The main task of bangs, in this case, is improvement.
Ragged, slanting bangs will give a look of a romantic young person, while strict bangs will add seriousness to the look.
Shorter bangs are recommended for women with perfect facial features because this option is able to emphasize the slightest flaw.
Lack of clear even contours or perfectly styled curls looks great on long hair with bob haircut.

Styling methods of long bob hairstyles 2022
Uniqueness of modish bob haircut 2022 is that each new styling can be new and unique. Any woman of fashion probably wants to try one of trendy bob hairstyles 2022, or she has an arsenal of the most advantageous options for her appearance. With bob haircut, experiments with styling are endless.
This hairstyle is usually given preference by girls living in an accelerated rhythm. Hair is dried and smoothly combed. Bangs are combed in the classic way, parting stands out to taste. Hair most often remains behind the ears, revealing the face.

Bob and some touch of romance will be a good combination. Curls are formed from the roots, to create maximum volume, and laid out on the head in a desired order. In order to give durability to this hairstyle, use lacquer of average fixation.
For the past few seasons, retro style is increasingly appearing on women on red carpets. It creates a cinema image, making its owner incredibly feminine and reverent. It's important not to comb the hair, but to strengthen them with varnish.

Creative styling ideas for bob haircut 2022
A universal non-binding hairstyle, appropriate for evening events, and for everyday activities. Hair is pre-moistened with a special mousse, then divided into identical small strands and wound on curlers.
After that, hair must be dried with a hairdryer using warm air mode. Then we remove the curlers and distribute the strands of hair with hands.

One of the fairly quick styling options, but no less original and beautiful. When drying your hair with a hairdryer in hot air mode, try to change directions, so that hair will be as disheveled as possible. Next, we wrap the dried hair with a gel, creating the desired shape and volume with hands.
So you can perform this styling as follows: wrap the wet hair with a mousse or gel and blow-dry in hot air mode using a diffuser nozzle.

Presence of small laconic decorations on hair with bob haircut 2022 looks very feminine and tender.
As such ornament, you can use a hoop, bezel, ribbon or beautiful hairpins. In this case, bangs can be assembled under an ornament, or lie in its place.
Hopefully our article about Long bob hairstyles 2022 will help to create your perfect style.