Wedding hairstyles 2022 amaze imagination without any pretentiousness and pomposity! Never was simplicity as beautiful as in bridal hair 2022. All that accents main idea: nothing can surpass your natural beauty!
All you need is just skillfully and gently emphasizing it, without disturbing original harmony.
Most wedding hairstyles 2022 should be hardly differed from your everyday ones, but catch eye with special charm.
It can be small original detail, like unusual styling trick or romantic accessory.
Wedding hair down become more common, but up options stays actual also.

We've found amazing options from 2022 shows. Read our «Wedding hairstyles 2022: Best photos and tips from catwalk» article.
Wedding hairstyles 2022: Wedding hair down
Wedding hairstyles 2022 discover true beauty of loose hair. In past brides necessarily wore complex high hairstyles.
Young people increasingly protested against excessive pomposity and unnaturalness, and now they won!
Wedding hair down became trendiest! Check out fashionable options.
Most bridal hair 2022 options aren't too voluminous, without bouffant near roots. Especially, loose hairdos. Only exception – retro 60s style wedding.
Curly texture is wonder! Proved by Jenny Packham and Naeem Khan! Second option decorated with jeweled headband.

Slightly falling romantic waves – what's better for wedding day? Gleaming highlights make that wedding hair down open it's magic!

Sleek straight hair goes behind ears to show your incredible earrings!
Nouvelle Amsale pleased us with amazing textured bobs.

There's some fairy tale touching charm in YolanCris models' hairstyles with two thin braids…
Bridal hair 2022: How to tie hair up?
Of course, wedding hairstyles 2022 aren't bounded with loose options only!
Can't make exact choice? Maybe, you would love half-up half-down options from Galia Lahav or Oscar de la Renta?

Dutch braids give some fantasy mood to your image. Try!

Sometimes simple ponytail accents face's beauty better, than any makeup! Leave careless loose strands in front.

That incredible retro hairstyle from Jenny Packham with ultramodern purple… We love the color!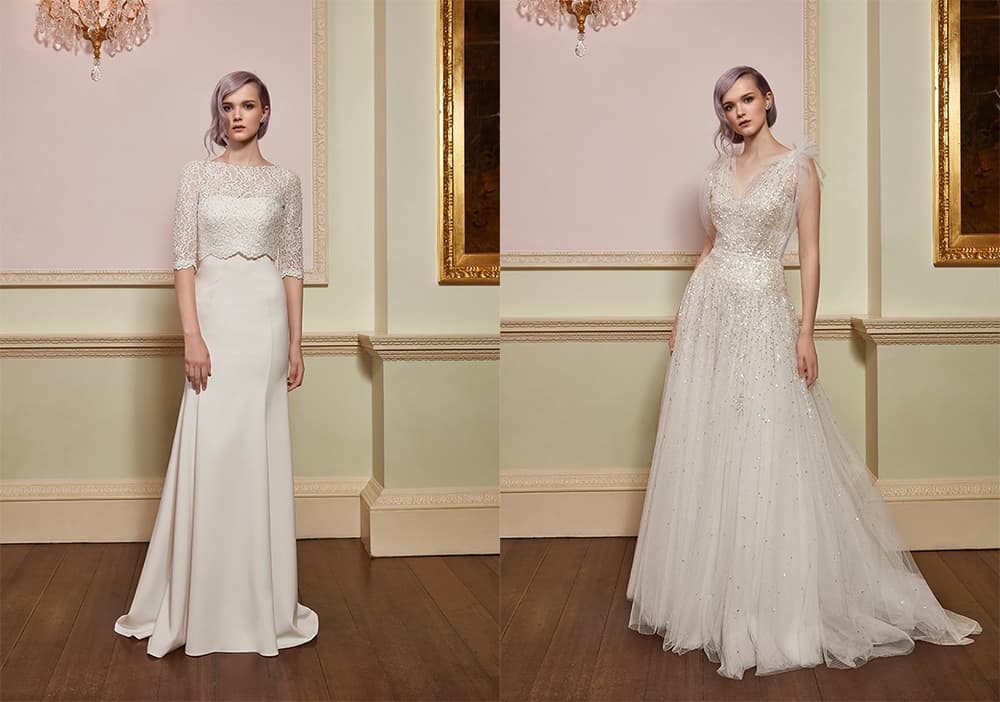 But 2022's best hidden in accessories… Read below.
Bridal hair 2022 with accessories
Wedding hairstyles 2022 include more, than simply decor. It's ideal ensemble story… Let's listen to their melody!
Flower wreaths add spring breathe into bride's hair.

Black accessories go on wedding trends top. Bridal hair 2022 looks great with black ribbons. Combination with same styled ear-rings – beautiful idea from Marchesa!

Pearls come extra fashionable! Try pearled headband or another idea. It was shown on Gucci cruise 2022, not as bridal hairstyle. But we think it's great for wedding – pearls, woven into hair.

Hopefully, our «Wedding hairstyles 2022: Best photos and tips from catwalk» should help you look your best in your day!