Hairdos for medium hair is marvelous option for ladies who like long curls, but can't spend much time on grooming, hairstyle, and styling. Fashionable hairstyles for this length are very diverse.  So in addition, average length is great opportunity for creating different hairstyles. Let's find out what medium length hairstyles 2019 are in trend.
Stylish hairdo ideas for 2019
Characteristic feature of medium length hairstyles 2019 is universality, that is, it's ideal length suitable for all ages, types, forms of face and complexions. Practicality makes this length the most popular today.
Being clearly on border between clavicles and jawline, midi-hairstyles look fashionable and bright. It gives freedom for all maneuvers with hair, but don't cause inconvenience and difficulty. On their basis, it's feasible to braid braids, bunches, curls, and more original hairstyles. Main thing, don't be afraid to experimentalize!
Stylish average caret
This hairstyle was in demand and will be relevant in this season. This fact is explained by its properties: universality and contemporaneously lot of available options, which make it possible to bring highlight to appearance due to arrangement of accents and interesting styling.
Especially organically, classic caret looks on owners of thick curls. But girls, whom nature has endowed with thin curls, also can have average caret hairdo. Hairdressers advise them to visually increase density and fluffiness of hair by grading strands.
To get this beautiful styling, you only need hairdryer and comb brush and 10 minutes for drying and styling. You can make styling with curls, using ironing.
Medium length hairstyles 2019: trendy updos
Medium length bob
Bob always looks stylish and is in medium length hairstyles 2019 trend. Also, it's handy to take care of. It goes to almost everyone. If you suppose that bob is only applicable on short length, you are wrong. This neat and stunning hairstyle is quite perfect to face of owners of medium length hair, especially if they are chubby.
This form will help visually narrow cheekbones and cheeks, bringing outline of face to classical oval. Daily styling process doesn't require to use excess styling products, it takes only 10 minutes.
For strict office styling curls can be straightened, for party, you can simply twist and ruffle. And refresh your style will always help some tricks:
Asymmetry will help to lose at least 5 years, optically increase and emphasize eyes
Oblique bangs will still be in fashion
In order to make image marvelous, color individual locks
Straight fringe to eyebrows will add to your image mystery and romance.
Original version of bean
Actually, few years ago, shaven temple or nape on hair of midi and maxi hair was sign of incredible extravagance and shocking. They were preferred mainly by representatives of individual youth movements.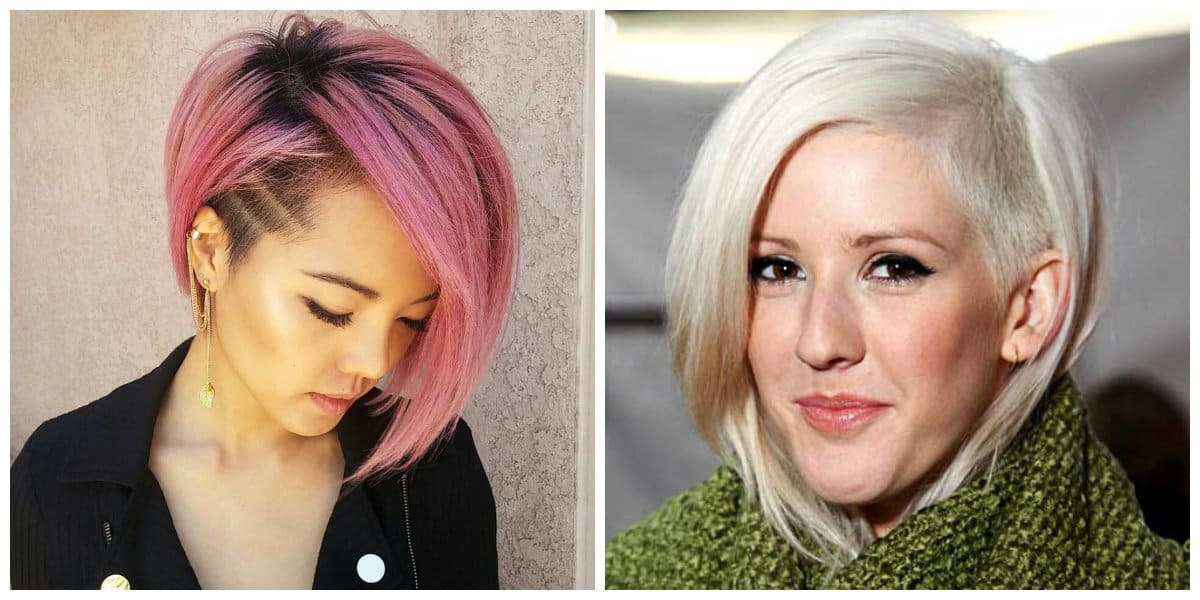 Now it's no longer considered something out of ordinary but gradually moved into category of daring, fashionable accents complementing standard hairstyle.
Asymmetric and layered medium hairdos
Asymmetry is unusual. This hairstyle always attracts attention. Using wrong, not proportional slices, you can smooth roundness of face. Asymmetric options most often combine grading. Graduated sections allow creating volume even on thin curls.
If you want special, cardinal changes, you can choose option with shaved temple. Actual in medium length hairstyles 2019 will be all asymmetric variations of classic hairstyles. All of them, including caret, beans, cascade look incredibly interesting with strings of different length and bizarre forms of bangs.
In 2019, symmetry refers to classics, which is allowed at official events and in strict offices.
Stylish layered hairstyles
Layered hairstyles on average length, which is called cascade, are recommended for very thick, as well as for fine hair. Thick curls in this hairstyle look more mobile and more structured, and thin ones acquire additional volume.
Cascade is good option for adult women looking for new hairstyles that gently and carelessly frame face. Layers make face younger. A little mousse, styling with hairdryer and comb or diffuser, and hair are ready.
Medium length hairstyles 2019: medium hair are never out of fashion
Asymmetric bean: courageous and bold
Another popular variety of beans. Strands in face are trimmed with asymmetry: one side is longer, the other is shorter. It's interesting option, suitable for confident women.
Medium length hairstyles 2019: Torn haircut
Sharp slices give hairstyle volume. It looks bold. If experiments with image aren't alien to you, you may like torn haircut. However it's worth remember that it requires daily styling. This option will suit to owners of elongated, rectangular and square face.
Aurora haircut
Main feature is volume on vertex, due to short strands and long strands from back of head. This technique creates layers and visually draws face, so it's suitable for owners of oval face type. You can arrange your hair with brush and hairdryer, pulling strings. You can also create light curls.
Modish options for 2019
Long bangs for medium length hairstyles 2019
Long bang hides broad forehead, corrects elongated oval. Such bang can be advised to owners of rectangular face. It can be even or graduated.
Haircuts with short bangs
Short fringe is not suitable for everyone. It immediately attracts attention to face, especially to eyebrows and eyes. This option should choose owner of diamond-shaped, oval or square face. This fringe will suit those who have small, not expressive features. But if you need to hide large nose, then it's better to refuse short bang. Bang can be straight, oblique, torn, graded.
Medium length hairstyles 2019: Rhapsody
In order to create Rhapsody hairdo, master cuts layer on crown, creating something like cap. This is first stage of haircut. Then, depending on what effect you desire to obtain, layers are created below.
Volume is main feature of Rhapsody updo. If you lay it with use of brushing hair, you can give hair magnificent shape that will persist throughout day.
Haircut debut on medium hair
Debut should be chosen by owners of thick curls. In order to describe this hairstyle two words are enough: layers and mess. The first layers begin on vertex. Such disorder well disguises angularity of face.
Thus give preference to simple, not requiring daily long procedure of styling hairstyle.