In case you cannot make up your mind on either long or short hair, guess where the perfect solution lies. Medium length hairstyles 2022!
The field to experiment is really large here.

Medium length hair trends 2022 allow you to play on a multiple purpose playground. Straight, wavy or curly, your hair will look amazing with medium length haircuts 2022.

Now, how about we show you our perfect collection of mid length haircuts 2022. You will absolutely love what we have in store for you.
1. Deep side parting
Bad hair day could have not been this good looking. This stylish and careless look will make you feel like a celebrity. Messy hair don't care!

2. Smooth, sleek, even
This one goes into the list of the most versatile medium length hairstyles 2022. It is perfect in its simplicity. Yet it looks stylish with the proper outfit.

3. Middle parting with layered mid length haircuts 2022
Women with more oval faces will absolutely love this styling. Tousled strands look gorgeous in wavy styling. Among medium hairstyles for 2022, ones with middle parting and wavy strands are the most popular.

4. Formal curly medium length hairstyles 2022
This gorgeous cut in the trends of the 1920's will transfer you into Gatsby era. It is relatively easy to execute this look. Simple curling iron will do. All you should be attentive to is to just not make too small curls. Otherwise, the look will lose its relevance.

5. Casual ponytail updo
This one falls into the easiest medium length hair trends 2022. It is possible to rock this styling with a super formal cocktail dress. Meanwhile, you can tie a bun like this for a casual meeting or a walk down to a mall.

6. Waves to the collarbone
This smart styling is easily incorporated into both medium length and long hair styling. In case you are interested in trying to color your hair with ombre technique, this length is perfect to try that.

7. Curly bob medium length hairstyles 2022
Many women with curly hair absolutely cannot stand what the nature has blessed them with. However, we strongly recommend embracing those wonderful locks and keeping them stylish. The simplest thing you will have to deal with constantly would be a good quality moisturizer.

8. Natural curls let loose
Whoever has naturally curly hair would agree with this statement: if I comb my hair, it will get bulky. Well, we feel your pain and so the stylists and designers.

In case you opt for letting your natural charm shine, just tie a ponytail after you have taken a shower. Keep that tail for about 40 minutes and let the hair loose. The key to looking beautiful with your curly hair is to air dry them.

9. Layered lob for any occasion
We are sure, that you already know layered hairstyles are more sought after because of the way they add natural volume to the hair. Balayage technique is what you should go for with this cut. The color play will look spectacular on your hair.

10.  Side swept bangs with waves
Medium length hairstyles 2022 with bangs look gorgeous on heart-shaped faces, as well as oval shapes. Many people who are too lazy to take care of them often avoid bangs.

Therefore, it is common to see medium length hairstyles 2022 with messy bangs. It leaves an impression of the cut to be unpleasant. However, if you use a blow dryer and a round brush to take care of that wonderful addition to the hairstyle, it will really shine.

11. Angled bob: medium length hairstyles 2022
Professional hairdressers usually execute this cut with choppy ends. It gives the final look a chic detail, which really makes the whole image come together.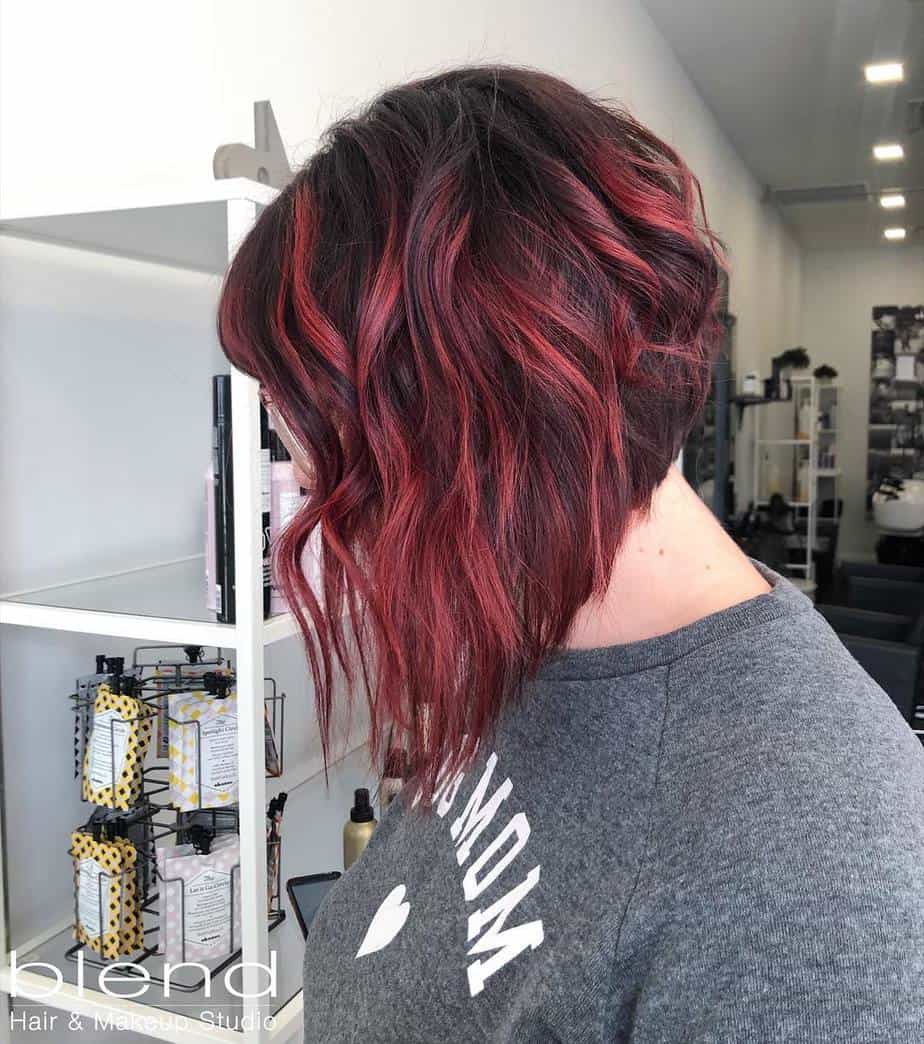 12. Layered bob from mid length haircuts 2022
Bob is universal in any of its executions. However, layered hair constantly look amazing and rich in texture and color. Moreover, if you add a thick fringe, your hair will pop out in the most sexy way possible.

13. Straight hair with parting in the middle
This simple haircut creates a frame for the face. It also serves as means to make the hair look longer. This is the perfect choice for those who have just cut their hair and don't want the look to be too short. Therefore, they visually elongate the haircut.

14. The ultimate remedy for thin hair
Having thin hair is a common problem among women. The difficulties those women face because of their hair quality are insane.
Everything becomes more intense when they decide to color their hair. No matter which color you try, it will look flat and unappealing. However, there is one option from medium length hairstyles 2022, which will make sure you thin hair look as thick as possible.

That remedy is the balayage and ombre techniques. When you keep the darker roots to be of their natural color, the contrasting color of the rest of your hair creates volume and hides the places where the hair roots are less.
15. Beachy look on lob mid length haircuts 2022
Shoulder length medium hairstyles for 2022 suit round face shapes perfectly. Adding a deep parting, along with some rich and fluffy beach waves will elongate and thin your face.
Therefore, consider this option, if you have a round face. Beachy waves are all about curling the strands in the middle, vertically. This gives additional volume and hides the face shape.

16. Messy bun on the top with let loose hair
We are all familiar with the struggle when hair get in your eyes. It is an annoying feeling. Sometimes when you have your hair specially styled for an event, it is impossible to avoid that unpleasant sensation.
However, you can always tie a bun, leaving the hair on the back of your head loose. This will give you a fun and cozy look. Slight carelessness with only work to your benefit.

17. Braided box among the medium hair trends 2022
It's edgy and old school. That sums up the whole story behind this gorgeous hairdo. You can create a more 90's vibe by adding some hair jewels to your look. Metal insertions will make sure those perfectly braided hair stand out.