At last century beginning, women cut their hair and declared their independence. Since that time, bang become constant element of fashionable image. Straight bangs still lead Women haircuts 2017!
You will like topics on:
Short haircuts for thin hair 2019
Classic smooth bang is universal way to change quickly. Black haired women look defiant and provocative, and blondes look like tender angels. Let's see options of haircuts for women with straight fringe in our «Women haircuts 2017: Straight bangs» article.
Women haircuts 2017: Straight fringes options
Classical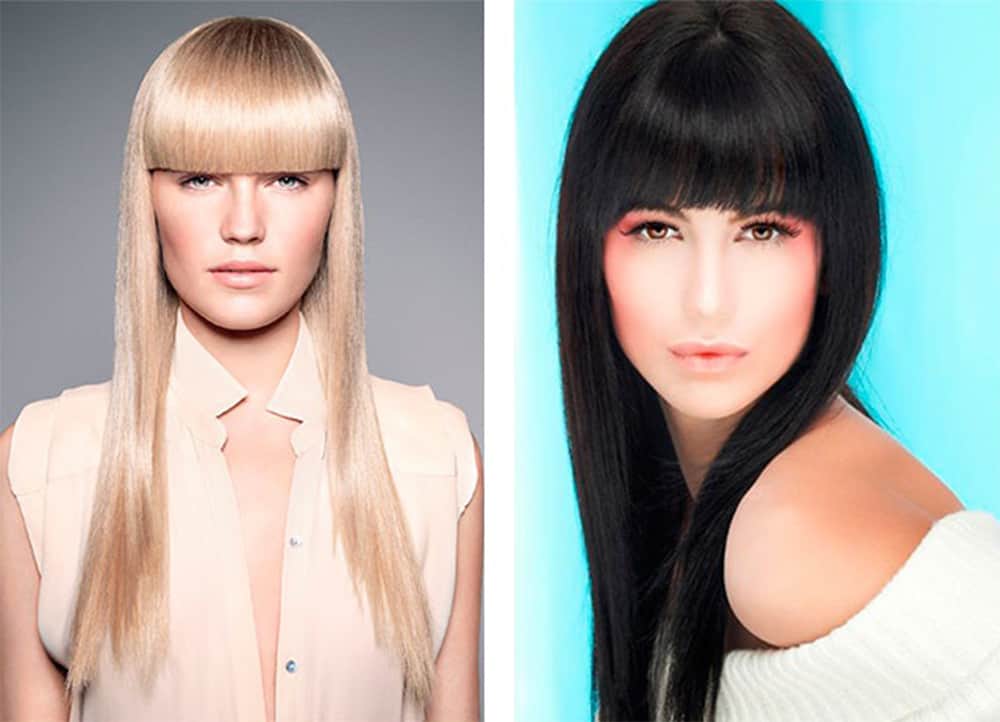 Perfectly combines both with long hair, and with square or bob. Such bang needs smooth elements, so all lines exclude filing or multilayering.
Shortened
It's adored by non-ordinary young ladies. It looks chic with short haircuts for women, especially with asymmetrical edge.
Jagged
Women haircuts 2017 look fresh and romantic with it. Make one-sided jagged bangs or divide it into strands to get new looks.
Heavy
One of 2017 hair trends beloved by modern fashion designers. Best option for such bang is same length curls, but it looks interesting with multi-layered original styling also.
2017 hair trends: Choose your straight fringe
Oval face owners can try any straight bangs!
Too thin face harmonizes with extremely short straight fringe. One of most popular women haircuts 2017 for thin face is pixie with short bangs.
If you have too high forehead, avoid jagged and short bangs. Classical option should fit you best.
Large, jagged and heavy bangs with ideally straight edges look magic on prolonged face!
Avoid too short bangs and divided on two halves ones in haircuts for women with round faces. Style bangs on one side.
Choose jagged bangs for square faces. One-sided, as one of leading hair trends 2017, should be perfect. Heavy fringes and straight edges won't fit you.
Hopefully, our «Women haircuts 2017: Straight bangs» article helped you create your perfect look!